SEC football fans have three less games to wager on in Week 11 come Saturday, Nov. 14.
Recent COVID-19 outbreaks have resulted in six teams postponing their Week 11 matchups.
The conference postponed Auburn at Mississippi State on Monday.
Subsequent announcements concerning Texas A&M versus Tennessee and Alabama against LSU came Tuesday afternoon.
SEC week 11 rescheduling
Auburn at Mississippi State and Texas A&M versus Tennessee have been tentatively rescheduled to Dec. 12.
Outbreaks have occurred for both the Auburn and Mississippi State teams. The Tigers camp has halted all football activities for the time being.
Similarly, Tennessee's game was given the red light after positive Texas A&M test results.
The resolution of the Alabama-LSU game remains up in the air.
LSU has already rescheduled against the Florida Gators for Dec. 12.
The team and league are considering Dec. 19 as an alternative playing date as well.
What happens to pending game bets?
This certainly isn't the year's first batch of delayed football games. Over 50 college games have experienced setbacks this season.
The NFL has seen its fair share of interruptions as well.
The Tennessee Titans, Buffalo Bills, Kansas City Chiefs and New England Patriots have faced the most obstacles thus far.
This pandemic is making fast friends of sportsbook refund policies.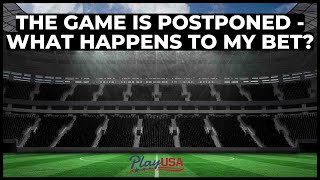 The rescheduled games are set to take place a month down the line.
Due to this long postponement, most sportsbooks will refund the current bets on these games.
However, each sportsbook maintains different guidelines, so it's important to verify specifics.
New lines are expected to be released in early December, leaving bettors plenty of time to deliberate on their wagers.