Tennessee Sports Betting Apps
Tennessee sports betting apps are now in the palm of your hand – quite literally! Online sports betting became legal in Tennessee on Nov. 1, 2020.  
Nine online sportsbooks are currently live in Tennessee. This includes FanDuel, DraftKings, BetMGM and Caesars. Action 24/7 and WynnBET have also become viable options for bettors. Most recently, Barstool went live in September 2021, Wagr Sportsbook launched at the start of 2022, and SuperBook Sports followed suit at the end of April.
Fubo Sportsbook and Betly will be the next to launch in 2022.
Keep reading for info on the best Tennessee sports betting action and how to get in on the action. We'll walk you through the entire process!
Best Sports Betting Apps in Tennessee
Rank
Sportsbooks
Bonus
Features
Play
Live Tennessee Sports Betting Odds
TN Sports Betting Updates
Last updated: July 7, 2022
Tennessee Volunteers baseball turned up the heat once again this season. For the first time in history, the team earned itself the No. 1 seed in the upcoming NCAA Tournament. Unfortunately, they were unable to carry that success through to the College World Series after being stopped short by Notre Dame.
In the basketball realm, the Memphis Grizzlies finished out the season with a 56-26 record, ranked second in the Western Conference.
The Tennessee Vols men's basketball team wrapped up their season with a 27-8 record, positioning them third in the Southeastern Conference.
The Lady Vols, however, are the ones making the major magic this season. They've proven to be a practically unstoppable force, resulting in a 25-9 record and the No. 3 SEC seeding. The women's basketball team hasn't claimed a championship title since their two consecutive wins in 2007 and 2008 under head coach Pat Summit, and future teams remain determined to reignite that legacy.
The Tennessee Titans look to return to glory in the upcoming season after losing last year's AFC Divisional Round to the Cincinnati Bengals. That loss may very well serve as fuel for quarterback Ryan Tannehill and the team during the upcoming season, as they aim to secure dominion over the AFC South once again.
The Titans weren't the only in-state football team hoping for postseason success. The Tennessee Vols took an upsetting loss in the Music City Bowl, marking the official end of their 2021-22 season. The game left them with a 7-6 record for head coach Josh Heupel's first year.
Tennessee Sportsbook Bonus Offers
Legal Changes: TN sports betting apps are live
Legal and licensed mobile sports betting is live in Tennessee. The refusal of Tennessee Gov. Bill Lee to sign HB1 into law was really only symbolic. He knew that without an explicit veto, the state's sports betting bill would pass. This law subsequently laid out a framework and taxation schedule for online and mobile sports betting in Tennessee.
One exciting aspect that makes Tennessee unique is that you can place a bet from anywhere in the state. That is, of course, as long as you're over the age of 21 and physically located inside the state.
If you happen to be an online sports betting newcomer, chances are you might feel a bit nervous or apprehensive about downloading a sportsbook to your device. You might even be wondering if it's safe and whether these companies can be trusted.
The short answer is yes. Tennessee's nine sportsbooks are legitimate, and they are very safe. Moreover, getting a sportsbook app onto your smartphone or tablet largely requires the same procedure as any other type of app.
The sports betting operators live in Tennessee are licensed, safe and legitimate betting options for Tennessee sports bettors.
The Tennessee sports betting apps available include:
BetMGM Sportsbook: One of the top gambling brands in the US is now operating its sports betting app in Tennessee. The BetMGM sports betting app is known for its unmatched functionality.
FanDuel Sportsbook: A sports betting market leader wherever it goes, the FanDuel sports betting app is now operating in Tennessee. FanDuel offers a flexible, customer-care-centered, and promotion-focused app.
Hard Rock Bet Sportsbook: Recently rebranded, Hard Rock Bet (formerly Hard Rock Sportsbook) features a simple, user-friendly layout and boasts a strong offering of major sports and secondary markets.
Caesars Sportsbook: This major US casino and sports betting brand launched in Tennessee in August 2021, bringing with it its famous Caesars Rewards program for sports bettors. The Caesars Sportsbook app is live in multiple states, and boasts a generous new user offer.
Action 24/7: A Tennessee-owned-and-operated brand comes our way from Action 24/7. The operator offered free-to-play games in the state before going live with sports betting. This app recently had its license suspended in Tennessee, but was given a temporary injunction by a Nashville judge. Action 24/7's app is running once again after being shut down for a few days. The case is ongoing.
DraftKings Sportsbook: DraftKings Sportsbook tops the list as one of the most comprehensive and truly innovative sports betting apps in the US. The DraftKings sports betting app offers a customized betting carousel, tracking your betting history and preferences to offer you the bets you're most interested in.
Barstool Sportsbook: The sports betting brand of Penn National Gaming received its operator license on Aug. 29, 2021, and launched in the state on Sept. 8.
Wagr: This social sports betting app is an offering exclusive to Tennessee and offers users the ability to wager against fellow players.
SuperBook Sports: Originally making a name for itself in Vegas as the "World's Largest Sportsbook," SuperBook Sports has been around since 1993.
Of course, there are other sports betting operators eyeing Tennessee. The state is wide open, in that online and mobile sports betting operators have no need to partner with land-based gambling operations to set up shop, and there's no cap on licenses. Operators simply need to meet the licensing requirements and pay the licensing fee.
The following TN sportsbook brands should be among the next to launch:
Bally Bet
Fubo Gaming
Gamewise, a joint venture between Delaware North and GAMING1
ZenSports
PointsBet: A unique alternative in online and mobile sports betting, PointsBet likely will be coming to Tennessee. That means traditional sports betting, a huge range of props, and innovative promos. Its proprietary PointsBetting market that rewards margin of victory is coming too.
BetRivers Sportsbook: One of the fastest-growing gambling brands in the US, BetRivers should be coming to Tennessee. That means Tennessee will get a look at Rush Street Interactive's popular iRush Rewards program, which offers rewards to loyal local sports bettors.
iPhone vs. Android sportsbook apps
You can download, install and use TN sports betting apps on most mobile devices. This includes iPhones and iPads running on iOS version 8 or higher and Android phones and tablets running on Android version 5.1 or higher.
Both iOS and Android apps offer full TN mobile sports betting functionality.
Here's how to get started with your specific device:
iOS (iPhone and iPad) instructions
Click the link for the TN sports betting app you want to use.
Click the "Apple" icon and "Get" button to download the app.
Open the app using the newly created icon on your iPhone or iPad.
Create your new account using any promo or bonus code required to get the best bonus available.
Make a deposit, browse through the betting markets and start making bets.
Android instructions
Allow downloads from sources other than Google Play in your settings by clicking Settings > More > Security > Unknown Sources.
Click the link for the TN sports betting app you want to use.
Click the "Android" icon to download the app.
Open the app using the newly created icon on your Android device.
Create your new account using any promo or bonus code required to get the best bonus available.
Make a deposit, browse through the betting markets and start making bets.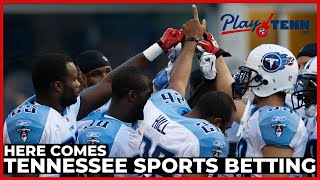 How geolocation works with Tennessee sports betting apps
Geolocation technology is a positioning system used to pinpoint your current location. It's the method TN sports betting apps use to ensure you are in Tennessee when you're placing bets. You don't have to live in Tennessee, but you do have to be inside state lines when you bet.
Geolocation tracks your IP address and triangulates your current Wi-Fi signal to figure out exactly where you are. The tech is supplied by companies like GeoComply, Central Account Management System, xyVerify and Locaid.
Thankfully, you don't need to do much to get your location verified. Most of the time, downloading and installing a TN sportsbook app will automatically install the geolocation plug-in you need as well. If not, the operator will walk you through it.
It works best on Android devices and iPhones/iPads because these devices have built-in GPS capabilities and no plug-in is required. You just need to make sure your GPS location services are turned on.
Key features of sports betting apps
While each app is slightly different, all of them will include account and cashier functionality. This means you can register and deposit via the app. They also contain pages on current bonuses, loyalty program info and promotions.
Here is how it works:
Registration: You can register directly in the apps and manage your account information. No separate desktop login is needed.
Cashier: The cashier is where you can check your balance and deposit and withdraw money from the app.
Promotions: This page is where you will find special offers, standing promotions and things like enhanced odds or parlay insurance.
Bet slip: Selecting bets from the list of games will add them to your bet slip. You then access this separately to combine your bets or set the amounts you wish to wager.
Live betting: This area will show current games, with the odds changing in real-time based on the on-field action. The games that are available will depend on which apps accept data from pro-league sources.
What sports can you bet on in Tennessee?
Tennessee betting apps offer the same sports to bet on as most other states. Here is a list of the sports available:
NFL and college football
NBA, Euro League and college basketball
Soccer (MLS, European and international)
Boxing, UFC and other MMA
Cricket
Rugby
These options are only the main ones available, with plenty of niche sports and events popular in numerous other countries likely featured.
Do expect some limitations when it comes to betting on college sports. The state explicitly banned in-game prop bets on collegiate sports. Additionally, Tennessee does not allow prop bets on individual college athletes, nor can you bet on possible injuries.
What kind of bets can you place via Tennessee sports betting apps?
Many sports have specific bets; for example, yards rushed in football or period betting in hockey. There are also standard single and multiple bets that cover many sports and, of course, player props and season-long futures bets that vary by league.
Singles bets include the moneyline (straight bets), total bets and point spread wagers (where the books add points to the underdog to even the score). You can bet on multiple matches with parlays, teasers (multiples with flexible spreads) or round robins (multiple parlays from a pool of games).
Popular props include the first player to score, period betting and sport-specifics, like the odd or even in basketball or Grand Salami bets in baseball.
Remember, collegiate athlete prop wagers are banned, as well as all in-play prop wagering.
What to look for in Tennessee sportsbook app bonus offers
All sportsbooks come with a big marketing push. The brands incentivize customers with a mix of offers that include:
Free bets (no deposit)
Matched deposit bonus
Risk-free first bet
Look out for loyalty programs that reward regular bets. These take different formats: free bets, points you can exchange for bonuses and VIP tiers are all popular.
Sports betting brings a lot of opportunities to run promotions on major events. It is worth checking all the brands in the run-up to the playoffs or the Super Bowl, for example.
You'll find popular offers such as best odds guarantees, overtime insurance or parlay returns boosts
How to use the cashier to deposit or withdraw
When the apps arrive, the big advantages of legal sports betting will become clear via the banking options.
Regular payment options, which are the same as you'd use to make any purchase online, become available. These methods keep things safe and simple for bettors.
Here is the list of available banking options in in Tennessee:
Prepaid cards: In other states, casinos and sportsbooks sometimes have branded prepaid cards that you can use for deposits and withdrawals.
PayPal: This popular service does charge for some transactions. For many people, the small cost is worth it for the extra security.
Skrill or Neteller: These are similar to PayPal, and are popular internationally among users of gambling sites.
E-check bank transfers: This is sometimes called an ACH transfer. You transfer from your bank, in the same format as an old paper check. If you get verified, this can be instant for both deposits and withdrawals.
Bill pay: Another banking option, which works with most major banks. Here, you are depositing at a sportsbook using the same process for paying utility bills.
Bank wires: This works well for larger amounts, though the banks charge high fees, making wires a bad deal for smaller deposits.
Cash: While the casino cage option might not be available, you could still use PayNearMe at your local 7-Eleven store.
Money orders: This old-school payment option is slow, although it is secure.
The big question mark on deposit methods for TN sports betting apps is credit cards. The law and regulations are currently worded that only cash-based transactions are allowed as deposit methods. That seems to indicate credit cards may not be a deposit option for Tennessee bettors.