The 2022 WNBA Draft concluded on Monday, April 11, welcoming 36 new selections into women's professional basketball. One particular selection, however, had Tennessee fans especially thrilled.
Lady Vols forward Rae Burrell was drafted as the league's No. 9 overall pick, earning herself a spot on the Los Angeles Sparks roster.
No. 9: Rae Burrell — Los Angeles Sparks
Originally from Las Vegas, NV, Rae Burrell made her Tennessee arrival in 2018. She became a fast favorite on the Lady Vols team during her sophomore year, starting nine games and logging a career-high 171 assists.
In Burrell's final season of college ball, she logged an average of 12.3 points, 3.9 rebounds and 1.6 assists per game. Burrell led the Lady Vols to this past season's Sweet 16, concluding her college career ranked No. 36 in all-time scoring at UT. Her overall 40.2% field goal percentage earned her 1,131 career points during her four seasons.
As a newly appointed Spark, her versatility as both a forward and a guard should prove to be a valuable asset in the coming seasons. In fact, she's already made a home for herself on the team, earning the nickname "LA Rae" on Twitter and beyond.
Rae Burrell follows in Candace Parker's footsteps
This isn't the first Volunteer whom Los Angeles has called on for their roster. Back in 2008, the Sparks drafted Lady Vols legend Candace Parker as the No. 1 overall pick.
Parker spent 13 seasons with the team before signing with the Chicago Sky in 2021. Her time with the Sky was instantly successful after she led her new team to a WNBA Championship title.
Burrell gains large shoes to fill
The Sparks are likely hoping to discover a young Candace Parker within their new roster addition. If so, Burrell certainly has large shoes to fill.
Parker led the Vols to a 101-10 record during her three-year stint at Tennessee. During that time, she also helped Tennessee secure two SEC Tournament titles and two NCAA titles.
Parker became the first woman to dunk in an NCAA tournament game and the second player to dunk in a WNBA game.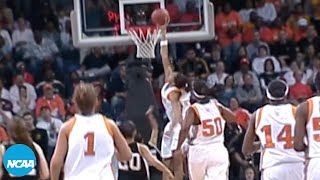 Once a Spark, Parker won the title of both WNBA Rookie and MVP of the Year — the only pro female basketball star to accomplish such a feat. Moreover, she won two gold medals playing for the USA Olympic team in 2008 and 2012.
The Lady Vols didn't boast nearly as successful a track record during Burrell's four-season span, in which they logged a 129-65 record. Burrell herself, however, received special acclaim her senior year. She was named to the NCAA Wichita Region All-Tournament Team, and ESPN ranked Burrell No. 24 in the 2021-22 Women's College Basketball Player Rankings.
DraftKings Sportsbook TN currently gives the LA Sparks the ninth-best likelihood of winning the 2022 WNBA Championship with +3300 odds.
No. 1: Rhyne Howard — Atlanta Dream
Burrell isn't the only player with Tennessee ties to advance to the WNBA this season. In fact, the draft kicked off with a Tennessee native.
The Atlanta Dream selected Kentucky Wildcats guard Rhyne Howard as the No. 1 overall pick Monday night. Born in Chattanooga, Howard attended Bradley Central High School in Cleveland, TN, before accepting a scholarship to play at Kentucky in 2018.
She logged 2,280 points and a 44% field goal percentage on the college court with the Wildcats. During her final season alone, Howard posted an average of 20.5 points, 7.4 rebounds and 3.3 assists per game.
The two-time SEC Player of the Pear and conference scoring leader is expected to make substantial contributions to her new team. Atlanta wrapped up its previous season with a lackluster 8-24 record. But with Howard's new inclusion, Atlanta could very well transition into a championship dream team in the years to come.
As for the upcoming season, Caesars Sportsbook TN situates the Dream with the second-longest chance of a championship win with +8000 odds.